Affordable Bathtub, Showers and Tile Refinishing In Houston and Austin, Texas
Do you have a chipped, rusted, or stained bathtub or tile? Perhaps, you have a shower or fiberglass that is leaking or cracked? You don't have to throw them away! Let us help you refinish your bathtub, sinks, and tiles.
Refinishing is a practical way of making worn and tired fixtures look as fresh as new. We have the required skills, as well as the quality topcoats needed to make this a reality at affordable rates; a fraction of the cost of getting a replacement. The result of our refinishing is a bathtub, shower, or tiles with amazing gloss and durability.
Located in Houston, Tx, New Refinishing serves the whole of Houston and Austin surrounding areas. Our skilled technicians are always available to help with your refinishing whenever you call on us.
We specialize in:
Bathtub Refinishing Services in Austin and Houston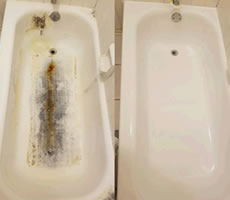 Bathtub refinishing can help you save money over bathtub replacement. The tradition for many homeowners before now is to replace their bathtubs when they are chipped or scratched. This shouldn't be the case anymore, as you can save up to 80% of the cost of replacing your bathtub by refinishing.
Refinishing your bathtub not only saves you money, but time as well. Our refinishing experts will take only 4 to 6 hours to refinish your tub and get it ready for use. This cannot be compared with a replacement that can take days or even weeks to get replaced. If your tub is cracked or not as functional as you would like it to be, you can affordably recreate your heart desired bathtub with New Refinishing.
Tile Refinishing Services in Austin and Houston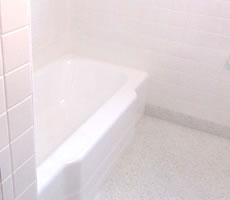 A lot of people choose to replace their tiles as a result of missing tiles or dated color. You don't want to spend money on tile replacement when you can easily update them. Refinishing your tiles not only makes for durability, it also has a design impact on bathroom appearance. We offer the services you need to refinish your tile, so you don't necessarily need to replace them.
We will refresh your tile to look elegant, trendy and original. If you don't want your bathroom to be out of use for a long time as a result of the chiselling and mess that comes with tile replacement, then call on us today, as we can provide you with a faster alternative for the residents in Austin and Houston!
Sinks and Showers Refinishing Services in Austin and Houston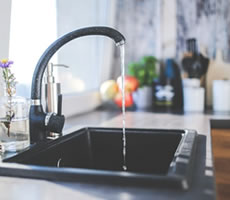 Daily activities like brushing of teeth and washing of hands can make your bathroom sink to wear out with time. While a lot of individuals will opt for replacement when they notice cracking and stains, refinishing is oftentimes a better option. Refinishing is more cost-effective and produces the exact same results as replacements. At New Refinishing, we will refinish your bathroom sink to look as bright as new. We use glaze over the sink surface to fix the appearance, remove all the cracks and other damages, and then finish it off once you have decided on a color. All these doesn't take more than a few hours.
In the same way, you don't have to replace your shower if they are a horrible sight, damaged, or hard to clean. We can refinish your fiberglass or tile shower right in place! You don't have endure the messy demolition that comes with replacement, as our sinks and shower refinishing services can deliver a beautiful sink and shower with a fresh feel.