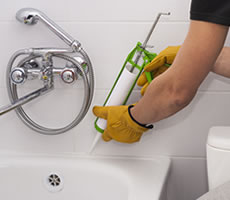 We work with resurfacing experts, that have been trained to offer fast and trustworthy service, So we can assure you that every project we execute, will accomplish with the highest quality standards of the industry.
We have worked with thousands of residential homeowners, hotel and apartment managers, and hospital engineers in the past years. We have been able to satisfy their refinishing needs 100%, and we have saved them thousands of dollars in remodeling as well!
Our Scope:
We do residential and commercial work. We work with the following clients:
Residential Homeowners
Apartment Complexes
Hotels
Hospitals
Nursing Homes

We specialize in:
Bathtub Refinishing
Bathtub Repair (no plumbing work)
Tile Resurfacing
Sink Resurfacing
Cultured Marble and Tile Counters Refinishing
We also refinish other bathroom and kitchen surfaces such as ceramic tile, cultured marble counters, porcelain and cast iron sinks, and much more. New Refinishing is the most reliable, professional, and experienced bathtub refinishing company in the Houston area. You will not be disappointed with our service.
With our refinishing process, we are able to rejuvenate different surfaces, giving back its brightness and getting rid of cracks, scratches, and oxide accumulated over time. We use quality products in our refinishing process.
Our company is driven by integrity and honesty. We focus on bringing a quality and affordable bathtub and tile resurfacing service to all of our customers in the Houston TX area. We are committed to offering expertise, the latest technology as well as an experienced knowledge base for property managers and homeowners that cannot be beaten by our competitors.
Let us know how we can help you polish up your bathtub, tiles, sinks or showers today!
We are New Refinishing providing satisfaction guaranteed for Bathtub Resurfacing Services in Houston and Austin, Texas!
Call Us Today and find out how we can save you money and time! 281 904 6370