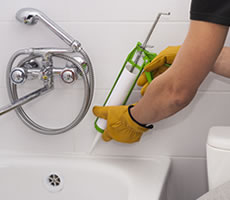 We work with refinishing experts, that have been trained to offer a fast and trustworthy service, So we can assure you that every project we execute, will accomplish with the highest quality standards of the industry.
With our refinishing process, we are able to rejuvenate different surfaces, giving back its brightness and getting rid of cracks, scratches and oxide accumulated over time.We use quality products in our refinishing process.
Let us know how we can help you polish up your bathtub, tiles, sinks or showers today!
We are New Refinishing providing satisfaction guaranteed for Bathtub Refinishing Services in Houston!
Call Us Today and find out how refinishing can save you money and time!